Recommended Resources:


I have to admit that when I heard about snack recipes which featured no sugar I was a little sceptical about how the end product would taste. After all, sugar makes the world go around, or so you might think after spending most of you life scarfing down an endless supply of snack types made with processed sugar.
But there is an alternative to the use of sugar in snacks. At least, this is what Carolyn Hansen says in her book 100 Healthy Raw Snacks And Treats,. Nature has come up with some nifty alternatives that are actually quite healthy for us, and which can be used to impart all the sweetness you might otherwise miss in the absense of a dose of sugar.
Dates turn out to be a good way to naturally sweeten the recipes for snacks and treats that appear in Carolyn's book. Another alternative that most of us are familiar with is honey. Less known is agave nectar, which is also an excellent natural sweetener that appears in many of Carolyn's recipes, including those for tempting cheescake delights that you can eat without the least pang of guilt. Yes, that recipe for a pink Strawberry Fields Forever cheesecake concoction is sure to become one of your favorites.
All done without sugar. Even without flour or butter. After all, who needs high-cholestrol butter in their diet when almond butter and coconut butter can be used instead?
Go check out Carolyn's site now and tell me that those images of the Strawberry Fields Forever cheesecake and the Carob Fudge don't make your mouth water. The great thing about these recipes is that they are not just put together with ingredients that are good for you, but they are easy to make AND they do not require any cooking on your part. If you know how to use a blender, Carolyn says, you can easily follow her directions and churn out a plate full of yum yums in no time.
If this whole idea sounds like a treat to you (hee hee) then here's where you can go to find out more about how to add 100 Healthy Raw Snacks And Treats, to your diet. Trust me, if you like to eat, this is something that is worth your time – especially if you would not mind losing a few pounds by eating stuff that tastes like it was designed to put on the pounds, not take them off.
Recommended Resources:


Recommended Resources:


Lately I have been able to meet a lot of Families On The Road.  I have camped with the Dial,s the Mulac's, and the Pantekoek's all within the last 2 months.  I myself has a family of 6 on the road and we have lots of fun.  Exploring the country with other families makes the adventure a lot more enjoyable.
Fulltime Families have developed an application called The Family Finder.  With this application, you can find other families full-timing and setup places to meet or camp to explore the area with.  You can meet for play dates, BBQ's, or even a day trip.  The application is free and easy to use, so sign up at Fulltime Families and have your adventure begin!
Recommended Resources:


Recommended Resources:


One thing we learned is that the lock on the screen door doesn't hold any weight.  A few times the baby almost fell out the door and down the metal steps.  We all know this could have been a disaster.  My solution to this was installing a gate lock on the door.  This is very easy to do and won't allow children to accidently fall out the door.
I positioned the lock so it can be reached from both inside and outside the door.  I found the lock at the local hardware store and paid about $5.00 for the part.
To install the lock, all you need is a 1/8″ drill bit and pliers.  Drill the hold in the frame of the screen door and on the wall next to the screen door.  Use the pliers to tighten the hook and eye to the holes you drilled.
That's it!!!  Now your screen door is kid proof.
Recommended Resources:


Recommended Resources: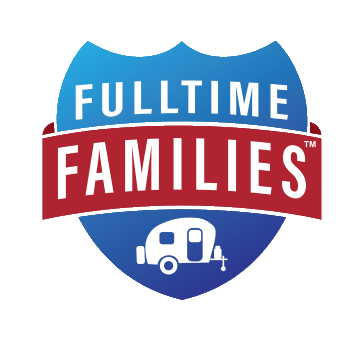 Fulltime Families Camping Club and Magazine is for anyone that dreams of or is actively living on the road full-time.  This club offers a monthly camping magazine, exclusive discounts to its members on products and services that support the full-time RV lifestyle, and quarterly rallies in 4 different time zones.  This club is great for families that are traveling around via RV, Travel Trailer, 5th wheel, or motor homes.
The owners of the club (Chris & Kimberly Travaglino)  are dedicated to serving and assisting its members so they can have a better RV experience.  Fulltime Families has also written a book called "How To Hit The Road".  This book will help you from start to finish on what you need to do to prepare yourself and your family for this experience, how to get your finances in order, what type of RV to purchase, and many more useful information that will make your plan a to hit the open road a success.
Quarterly rallies are a great place for other families to meet and share their experiences.  Fulltime Families has hosted 2 rallies so far and has a Halloween rally coming up in Tombstone AZ.  You can find out what to expect by clicking here.  Also, check out the previous Astoria OR Rally and the photos and videos on how that turned out by clicking here.
Another nice feature on the Fulltime Families Website is the "Family Finder".  This is where you or another member can post the city they are currently camped in and can offer recommendations on where to camp, what to see, or you can schedule a meeting to hang out for the day with other people on the road.  This will help you to learn about what being on the road is about or if your already on the road, gives your family to hang out with others.
Fulltime Families is a fun organization for families that love to camp, travel, and explorer.  Check em out at http://fulltimefamilies.com
Recommended Resources:


Recommended Resources:


When shopping for a used RV, it is a good idea to make sure you know what you are getting before you spend the money.
The first thing you need to do is make sure you are paying the right price.  The place to check for this is at NADA's website.  They have a link specifically for RV's:  http://www.nadaguides.com/RVs
The second thing to check is that you are buying a quality unit that can stand up to your needs.  Search the internet for the specific model and brand you are interested in and see what other RV'ers that own this product have experienced.  There are plenty of forums out there for this.
The third thing to do is to look over the unit.  Look for rotted wood or signs of water damage, look at the suspension, electrical, plumbing, or even engine / transmission if it has one of these.  If you are unsure, have an RV Mechanic comb through the unit and have a ASE Certified auto mechanic look over the units engine, transmission if equipped.
The biggest advice that I can give is don't get attached to the sale.  This is your money and it is supposed to be a fun purchase.  The right deal WILL come along if your not happy with the one you are in.  Always remember that you have the money and can go where you want and buy what you want.  Don't settle because you feel pressured or emotionally attached to the unit.  There are many more like it out there.
Happy Camping and see you down the road.
Chris Travaglino
Recommended Resources: